Despite the name, don't be fooled into thinking OJO Plus is another VIP or loyalty scheme, or an exclusive members-only club, it's not. In fact, every single player that uses Play OJO is automatically enrolled to Plus, and begins earning cashback and rewards from the first time they play.
What Is OJO Plus?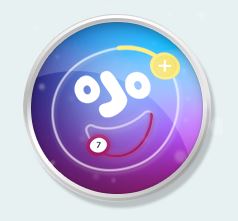 Unique to this forward-thinking casino, OJO Plus is real money rewards, in real time. No waiting around, no processing time, just cold hard cash for every single spin you make. As you play, you'll see the icon moving around OJO's face, and the amount you can earn is absolutely unlimited.
There's no restrictions as to which game you're playing, the scheme pays cash back on every single bet, whether you're on slots, table games or live casino. You can save your cash, and it won't expire, or you can withdraw it. As it's cash, like everything else at Play OJO casino, there's no wagering requirements. It's yours to do what you like with.
There's no other online casino that offers such a generous reward scheme, with no restrictions and you can cash out any time you like.
OJO Kickers
That's not all. As well as continuous cashback as you spin, you will also receive OJO Kickers! These are special perks rewarded to you the more you play, including exclusive promos and daily offers. As always, free spins are cash with no wagering attached, meaning you can keep whatever you win.
These rewards only last 24 hours, so you have to be quick. Check out the Kickers section within your account to claim your rewards.