Codeta Casino
If you like to play table games, Codeta is the obvious choice for you. Launched during 2016 with the ambition to challenge the established operators in the live casino segment, Codeta (which is inspired from the French word Coup d'État) is here to offer the best possible gaming experience for everyone that enjoys live casino or table games.
With a site design in black, Codeta feels very elegant and classy, almost exclusive where you immediately feel that the site is safe to play at and that the service will be really good.
Bonus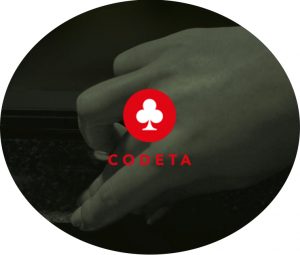 At Codeta, you can choose between two different bonuses depending on your preferences. If playing the live casino, you can claim a welcome offer that gives you 10% extra on your winnings or 10% back on losses up to £300 where everything comes down to the results of your first week where the cashback and top up is calculated as follows:
Cashback = (Bets-Winnings)*10%
Top-up = (Winnings-Bets)*10%
Are you ready to kick off your live casino experience?
Observe that this bonus is made for the live casino where you can choose a deposit bonus of 100% up to £300 if you instead prefer slot machines. The minimum deposit is £10 and follows with a wager requirement of 40 times the bonus money where you can use the bonus for any video slot you like.
Live casino
Codeta may have the best live casino in the world and has with their focus on table games built an impressive selection of classic casino games. Here you find the most traditional table games, Roulette and Blackjack in several different variations and price ranges where several tables are scalable which means that you will never have to wait for an open seat. If you want to win big, we recommend trying the double ball roulette where the dealer will send two balls into a spin creating an opportunity to win 1300 times your bet.
Slots
Despite their focus is upon table games, Codeta has the vision to offer anything their customer's wants and has therefore also created a good section for the slot. As mentioned in the beginning of this review, Codeta is a quality casino and has therefore chosen to only work with the best game providers, carefully picking what slot machines to provide.
Service
Codeta states on their site that transparency is key. By that, they mean that hidden fees, exploitative terms, and conditions or other things that are not fair to their members are short termed and will not only harm the players but also the slot site. Codeta is exemplifying their transparency by having their management team posting on the website together with all information about the company. By that, you can feel safe that you are in good hands when it comes to service at Codeta. On their company site, you can also read about the experience of the management team further confirming that Codeta offers good service and are serious with their coup to revolutionise the gaming industry.
Recommendation
Codeta is worth a shot and one of the most interesting slot sites that have been launched lately. With a focus on table games, complemented with high-quality slot machines, Codeta is a casino that will be able to challenge the bigger and much more established operators with both their product and their service. Similar to a lot of other slot sites released the past year, it is fun to see that also Codeta dares to try something different. Both the appealing design and the two different welcome offers stand out in the competition where the 10% cashback and top-up are attractive for both beginners and high rollers.