Betser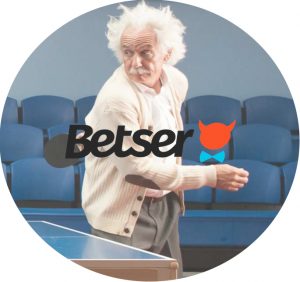 Do you have balls or brains? No matter what the new betting site Betser invites you to a unique game adventure. The site opened its doors in 2016, and behind the business is the same skilled team that founded the popular casino Casino Heroes a few years ago.
Unlike Casino Heroes, Betser focuses on betting and odds, but otherwise, the pages use roughly the same layout. The concept itself is called "gaming, " and the founders want to give the players an innovative and new gaming experience with the influences of computer games and sports. While playing your favorite games, you will win points and rank in different rankings that give you access to rewards and various special offers.
The major highlight is the interesting loyalty system used on the site. When you make bets, you get the so-called ball and brains points that you can then use to buy free spins and other rewards in Betser's shop. Also, there is a league called Betser League where you can challenge friends and other members about who is best at betting. If you succeed in reaching the top positions, you win fantastic prizes!
Welcome Bonuses at Betser
Both new and existing players can enjoy a variety of bonuses and other promotional offers on the site.
All new players who open an account receive a hundred percent welcome bonus of up to £100 for their first deposit. This means that if you deposit £100 in your account, you will have £200 to play for. You can choose between using the bonus at betting or the casino game. As if it were not enough, you'll also get 50 free spins!
Games at Betser
The range of sports events that you can play is very big at Betser, and you can play sports from a large number of countries around the world. For those players who like to play football, Betser has a very good range of games on a large number of leagues from different countries. Here you can also bet on soccer in the lower divisions, youth football and women's football, which allows you to play on your local favorites.
In addition to football, Betser also offers games such as ice hockey, American football, rugby, baseball, cricket, athletics, winter sports, motorsport, martial arts, boxing, golf, tennis, volleyball, basketball, handball and much more. There is also the possibility of playing some more unusual sports such as snooker, darts, windsurfing, and e-sports. For those who like to play cultural events, one can play at the Eurovision Song Contest, the Oscars gala and political elections in a number of different countries.
If you want to take a break from the betting, you can entertain with more than 400 games in Betser's casino. Thanks to Betser collaborating with the top game developers, they can offer you the best and newest slot games available on the market. The game range is expanded with new titles every month, so it pays to come back and check which game news has come in.
Customer Service
If you have questions or encounter problems, Betser's knowledgeable customer service will be willing to assist you. The support is open between 10:00 and 00:00 every day, year round. The customer service, of course, speaks English but, if you wish, you can also use, Norwegian, Finnish, Swedish or German. E-mail your questions to them, and you will receive answers within 24 hours. If you want quicker results, we recommend using the live chat.
Live chat is very easy to find – find it down to the right when you visit the site. All you need to do is write your question in the chat field, and the customer service will provide you with an answer shortly. There is also a FAQ with frequently asked questions. It always pays to start there if you have something that you're considering.
Summary
When you visit Betser's website, betser.com, you will immediately notice that the design has clear influences from the world of sports. It's a fresh and easy-navigated page with stylish graphics. Because the betting is Betser's specialty, it is nice to see that the site has such a clear layout.